Bringing the Love of God to Trauma Victims
Bringing the Love of God to Trauma Victims
Bringing the Love of God to Trauma Victims
My name is Ladell Johnson. I am a parishioner of Our Lady of Africa Parish in Chicago. Divine Word Missionary, Fr. Bob Kelly, SVD serves as our pastor. I serve as:
the Director of the Our Lady of Africa – Tolton Center Food Pantry (on the corner of 41st Street and Michigan Avenue.)
 
the Chairperson for the Domestic Violence Ministry in the parish. Cardinal Blaze Cupich, Archbishop of the Archdiocese of Chicago, asked us to develop a ministry to serve those suffering from domestic violence.
 
a liaison with the Chicago Police Department's Alternative Policing Strategy in the Second District of the CPD. (It extends from the shore of Lake Michigan to the Dan Ryan expressway, and from 31st Street to 60th Street.)
 
a Crisis Responder for Chicago Survivors. This organization reaches out to families who have become victims as a result of having lost a family member to gun violence. We work closely with CPD. In the past couple years, most of the kids have been under 15 years of age. They don't even make it to their sweet sixteen birthday. This is a club that nobody wants to join. The families, relatives and friends don't ask for it, and yet it changes their life overnight.
Recently, on Labor Day weekend, there was a five-year old child and his parents visiting from out of town. Someone shot through a window of the home where he was staying, and the bullet struck him. He didn't make it. I knew he was not going to make it that night, so I got up, even though they had not called me yet. Because of COVID, we don't go to the scene anymore, and we don't usually go to the hospital.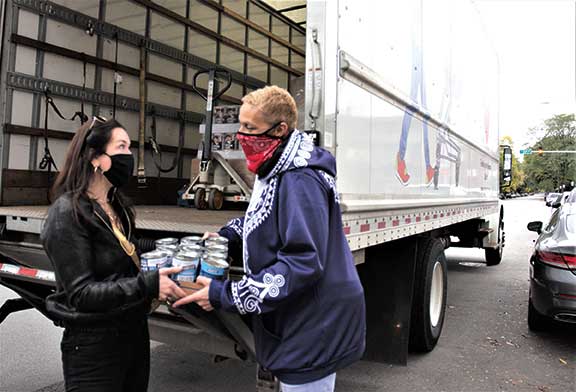 When I heard about it, I got up and went to the hospital anyhow. I just stayed there. It was the most uncomfortable feeling I have ever had. The boy's mother had been cut by glass, so she was in the emergency room. His father was there by himself. Being from out of town, there was nobody there with him. I sat there for three hours and nobody ever showed up to support him. Nobody. And it just really bothered me. After a couple of days, they took the little boy off life support. It really tore me apart.
Your gift to the Society of the Divine Word supports the work of parish staff members such as Ladell. Under the leadership of Pastor Father Bob Kelly, SVD, she brings the love and healing of God's Spirit to those traumatized by domestic violence and gun violence.
Thank you for enabling their collaborative ministry to continue.
---
To find out how you can continue to support our missionary work, click here.