I Know I Will Never Be Adandoned
I Know I Will Never Be Adandoned
Written by Guy Vaccaro, Executive Director of Development Province Center/Divine Word College
I know I will never be abandoned.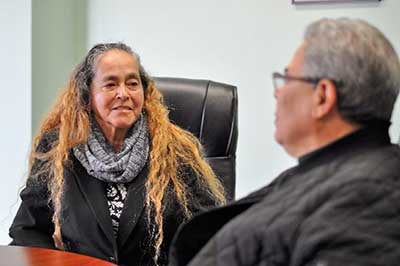 My name is Maria Ramirez and I am a member of Mother of Mercy Parish in Asbury Park, New Jersey. Our pastor is Fr. Miguel Virella, SVD. I am from Colombia and I am a single mother of three grown children: Rwson, age 40, Andrea Gimena, age 39, and Leo, age, 35.
My experience of emigrating from Colombia to the United States was very good. I had a visa, so I did not have any problems entering the country. I have been a member of the parish for the past fourteen years and have been active in many areas. I serve as a eucharistic minister. I have been trained in the Virtus, Protecting God's Children, program for training adults in how to prevent child sexual abuse. I went to a training program for a group called Prayer of Intercession for the Sick. I have been a member of two different choirs. I help the Sisters of Charity in their religious education program. Every Monday I come to the parish to help count the Sunday collection. Although I am not from Mexico, I also help prepare the dancers for the Our Lady of Guadalupe celebration.
Our community loves Fr. Miguel. He has been very helpful and supportive to me personally. On one occasion, as a result of some family issues, my son was taken to jail. He had done nothing wrong, and, after a jury trial, was found innocent and released. I will never forget that Fr. Miguel took the time to visit him while he was in jail. I am very grateful for his walking with us through a difficult time.
On another occasion, I was a pedestrian and was hit by a car. The car actually drove over my foot. It was in pretty bad shape for quite a while. I called Fr. Miguel and he came and anointed me. Thankfully, my foot has healed completely. I am very grateful that Fr. Miguel took the time to come and administer the Sacrament.
I clean houses, take care of the sick, and will do almost any kind of work I can find. Unfortunately, during the pandemic, I have not had steady work and that has brought its own hardships. I am grateful for the times that I have been in financial need and Fr. Miguel has been able to help. It has made a big difference.
As a single mother, I am alone. I may have a job today, but not tomorrow. I find comfort in the fact that, even though I am alone and am not able to work all the time, I have a community that supports me. I know I will never be abandoned and left to fend for myself on my own. I will always have a community to whom I can turn when I am in need. I feel at home and at peace here at Mother of Mercy, thanks to our pastor, Fr. Miguel.
"I am able to do this through the people who help me to help other people. I know Maria is very grateful. She is also grateful for all those times I was present when she needed to make a decision and did not know exactly what to do. I have helped her consider her options and select the best path." - Father Miguel
---
To find out how you can continue to support our missionary work, click below