A Mother's Grief Finds Peace
A Mother's Grief Finds Peace
By Guy Vaccaro, Ph.D., Executive Director of Development
A Mother's Grief Finds Peace Through Our Priests and Local Church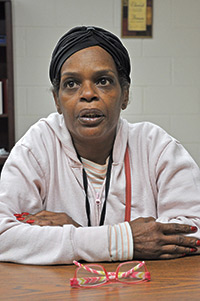 My name is Genoria Fields. I am a member of Our Lady of Africa Church in Chicago where Fr. Bob Kelly, SVD serves as the pastor. It was the love and support I received from SVD priests that brought me to the Church after the death of my daughter, Albertina.
At approximately 4:10 p.m., on Thursday, April 17, 1997, she went to the store to buy some nachos. When she walked out of the store, two gangs in the neighborhood began shooting at each other. Everyone ran for cover, but Albertina got caught in the middle. She received one bullet wound to the chest and died on the spot. She was 16 years old.
Before my daughter was shot, I used to pass by St. Anselm's Catholic Church in my neighborhood. I never went inside. The pastor was Fr. William Haggerty, SVD. He heard about my daughter and came to my house with a parishioner from the church. They offered their condolences and prayed with us. Fr. Haggerty was a very warm, thoughtful person. He said if I ever wanted to come to St. Anselm's, I would always be welcome.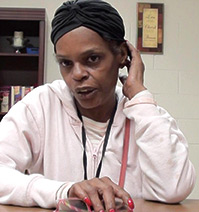 I waited a month before I took him up on his offer. When I did, Fr. Haggerty told me that if I needed anything, he would do whatever he could. He came by to see me and my two sons again. He used to take us to the Jewel grocery store and buy us food. He and the parishioners did everything they could to help me. As we started going to church, he really brought me and my family closer to God. I love to read my Bible. That helps me get through my day. It makes me feel better inside.
I started singing in the choir at church and never missed a day. It just lit my heart up. I had such a heavy heart, because I am a single parent. My daughter's daddy died right after she died.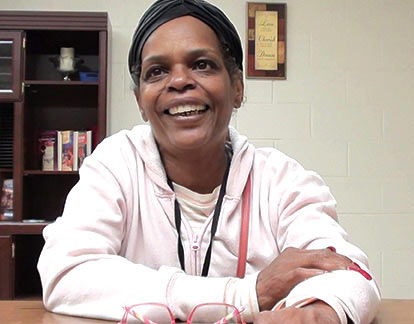 I miss my daughter, Albertina, even today. The case is not closed and I think the killer is still out there. I pray to God that nothing happens to me and my three sons who are now 28, 27 and 19 years old. Every day I pray, "Lord, please let me and my sons do our daily commute, go to work, and make our way home without being shot, stabbed, or robbed." I never thought I would ever have to pray a prayer like that. Now, I pray it every day.
I say this from the bottom of my heart. I love Fr. Haggerty and Fr. Gabriel, another SVD priest. There isn't anything I wouldn't do for them. They have been there for me and my kids from day one. And Fr. Gabriel and Fr. Bob are still there.
The Lord is watching over us and he has our back. I pray to the Lord every day. I just pray for strength and healing. I am doing good, though through all this. Just gotta hold onto God and keep the faith. That's all we can do.
On behalf of Fr. Kelly, Genoria, and others finding help they need, we are ever grateful for your support.
---
To find out how you can continue to support our missionary work, click below
If you like our Divine Story, please consider making a donation to help us continue our missionary work.
---
---