A Story of Hope and Change
A Story of Hope and Change
From a recorded interview with Guy Vaccaro, Executive Director of Development
Our missionaries often work with those who are economically disadvantaged.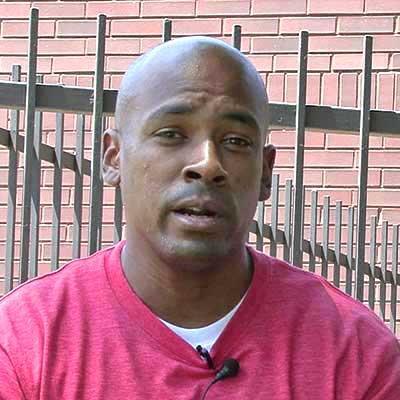 All too often, regular employment is a challenge. For that reason, many missionaries have become adept at partnering with organizations who are equipped to provide job training. Fr. Bob Kelly, SVD at the former St. Elizabeth Church, now part of Our Lady of Africa, on the South Side of Chicago, is one such example.
What follows is an interview with just one person who has benefited from this partnership. 
"My name is Marcel Romero. I am thankful for a door that God had opened up to me. Behind that door is a job training program here at St. Elizabeth Catholic Church (now part of Our Lady of Africa) on the South Side of Chicago where Fr. Bob Kelly SVD serves as the pastor. I am definitely on the positive side of the line. I am really thankful for that because I was definitely headed in the wrong direction. 
The best part is the heart-felt help from the staff in the program. There was actually someone there that cared and helped me better myself in a positive manner. Here I found people who truthfully deep down have a good heart. They want people to better themselves. They want to help. They want to give you that extra hand that is needed. 
They have helped me find jobs. I am now working one on a regular basis. I have a very valuable work ethic and they see that, and that is why I have progressed as fast as I have with this job. 
I have received four jobs since I started coming here. I have moved on from those jobs because I found better ones from opportunities that I wouldn't have had if it were not for being a part of this organization. 
Employment opportunities are definitely out there. You might hear that they are not out there, but if you want it, really want to go get it, it is definitely out there. I myself have my belief in God and I know that as long as I take that step, God would open that door for me. That is what God did through this program.
You cannot save everyone, but one is really all that matters. That is why I believe that they keep going because they know that there is someone out there that can be saved. I love their open-mindedness. Their cup is always half full, not half empty. It helps me being around that type of energy. I may be having a bad day, but being around that great type of energy . . . I get cushioned by it. It helps me move better in the right direction. It helps me respond to things a lot better than I used to. 
I would eventually like to become a drug and alcohol counselor. I would like to come back here, God willing, to do the same kind of hands on work the staff are doing now. I am just really thankful for everything."
On behalf of Fr. Kelly, Marcel, and other people served through Our Lady of Africa parish, we are ever grateful for your support.
---
To find out how you can continue to support our missionary work, click below
If you like our Divine Story, please consider making a donation to help us continue our missionary work.
---