Spoons Too Long
Spoons Too Long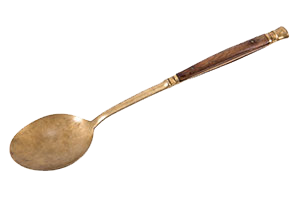 Spoons Too Long - A Lesson Learned
One day, Saint Peter gave a man a pass to heaven, but the man decided first to ask one request. He wanted to see hell before going to heaven. St. Peter granted his request.
In hell they were greeted with a great feast, a beautiful ballroom, and tables bent under the weight of exquisite foods. However, everybody looked very sad and preoccupied. After a while, the man saw why -- all the guests had spoons so long that they were unable to put food in their mouth using those spoons.
When Saint Peter and the man left and went to heaven, the situation repeated itself. But, in heaven, everyone was happy despite using the same long spoons. In heaven, they found a solution... instead of eating alone, they began to feed one another.
Of course, we can go through life selfishly, without paying attention to the needs of others ...
But is such an attitude worthy of a disciple of Christ? Let us not expect goodness from others, while we ourselves are not able to offer this goodness to them.
"The only measure of love is love without measure."
- St.  Francis de Sales
---